Agios Nikolaos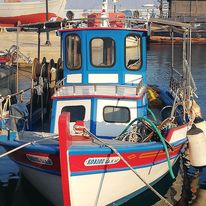 Located on the northeast coast of the Greek island of Crete, Agios Nikolaos is a picturesque town that is renowned for its unique features and fishing tradition. With its scenic location on the Mirabello Bay, Agios Nikolaos boasts stunning views of the turquoise waters and the rugged mountains that surround it. Its natural harbor is a hub of activity, with colorful fishing boats unloading their catches and local fishermen using traditional methods to catch fish and seafood.
One of the unique features of Agios Nikolaos is the Voulismeni, a small lagoon that lies in the heart of the town. According to legend, the lagoon is bottomless, and it is said to be connected to the sea by a subterranean tunnel. The locals believe that the lagoon has healing properties, and it is a popular spot for swimming and relaxing. The lagoon is surrounded by cafes and restaurants, making it a perfect place to unwind and soak up the atmosphere of the town.
Agios Nikolaos is also known for its exceptional beaches, with their golden sand and crystal-clear waters. Another unique feature of the town is the nearby Spinalonga Island, which was once a leper colony and is now a popular tourist attraction.
The town's cultural heritage is also an important part of its identity. The Archaeological Museum of Agios Nikolaos showcases the rich history of the region, with exhibits that range from Minoan artifacts to Byzantine icons. The town is also home to a number of historic churches, including the Church of Saint Nicholas, which dates back to the 7th century.
Overall, Agios Nikolaos offers a unique blend of natural beauty, cultural heritage, and traditional Greek charm, with its fishing tradition adding to its allure. Whether you are interested in exploring the town's history, enjoying the stunning beaches, or experiencing it with local fishermen, Agios Nikolaos is a must-visit destination for any traveler to Crete.
More Trips in the Area